PLAN(T) YOUR NEXT ADVENTURE HERE!
The Green Adventure and Garden Expo!
Want to know the best ways to enjoy Carolinian Canada? Come pick up a list of hiking trails, chat with expert paddleboarders about their favourite spots, buy native plants from trusted vendors, learn some tips to make your gardening easier, sample some local wine, and check out a workshop or exhibit where the whole family can learn something to inspire your next adventure!
Anyone who enjoys the outdoors and appreciates what this Ecoregion has to offer will appreciate this event!
Come check out and buy the best new gear for your outdoor adventure sport. Find your next great paddleboard or climbing harness.
Buy native plant stock from premier nurseries from across the region. Vendors you can trust, stock you can be sure is local
Pick up the latest trail maps and hiking group schedules and meet up with like-minded adventurers
Attend workshops with local experts - get inspired by those who have 'been there and done that'
Find planting and design expertise for problem areas or unique situations
Talk to the experts in adventure sports or native gardening or citizen science as it applies to the Carolinian Ecoregion!
Be inspired, think spring, join the community, eat some good things, have a great day
Workshops and fun for the whole family

Taste, enjoy and learn more about the variety of wines, beer and food the region has offer
Go Wild Grow Wild 2015
Over 1700 attendees, 14,000 unique web visitors, 20 workshops and interactive exhibits, a climbing wall, native plant sale and a hugely popular Junior Adventures program designed for youth. Here is what our exhibitors and attendees had to say:
"Great vendors, local interests, and target market"
"Well targeted audience"
"Meeting amazing people and networking"
"Great energy and enthusiastic talks"
"Awesome crowd and turnout"
We also surveyed the crowed and we found that:
92% were inspired to participate in more nature-based recreation
77% want to get involved in habitat projects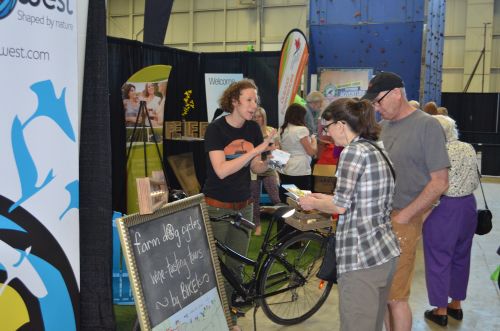 Photos: Owen Williams
Q. Where is Carolinian Canada?
Did you know that Canada's "Deep South" makes up a distinct ecoregion known as the "Carolinian Zone" (Toronto to Windsor), adeptly suited to not only humans, but also 2,200 plant, 70 tree and 400 bird species - more than any other region of Canada? The Carolinian Zone contains a third of Canada's rare and endangered Species, including 150 designated "Species at Risk."