Plant a Native Plant
Whether it is a milkweed that will help Monarch butterflies, or an Oak that can support over 500 different species, growing a native plant has positive outcomes for local biodiversity.
Native plants are plants that existed in our region prior to European settlement; they have evolved alongside our native insect, bird and other animal species.  Because native plants they are adapted to our climate, native plants require less maintenance, energy, chemical inputs and water once they have established.
Less than 10% of the land in Carolinian Canada is 'natural', and 95% of those natural places are under private ownership.  For this reason, private landowners are an essential part of conservation.  Landowners can create important sources of food and shelter for wildlife by planting native plants in their own backyards.
There are many species to choose from, with as wide a variety of colours and textures as conventional garden stock.  There are many resources available online to help you select the best plants for your property.  Check out the additional resources in the side bar.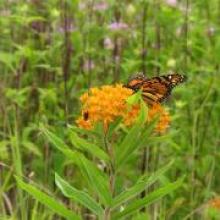 Butterfly Weed and Monarch Butterfly - UTRCA
Carolinian Canada will make every effort to provide assistance making materials accessible on request. Contact
info@carolinian.org
for more information