By Tickets. Choose Your Adventure
Save with early-bird tickets or buy regular tickets with cash, card or mobile at the door!
With each ticket you purchase, you're supporting local wildlife and a healthy, green Ontario!
Which Pass Will You Choose?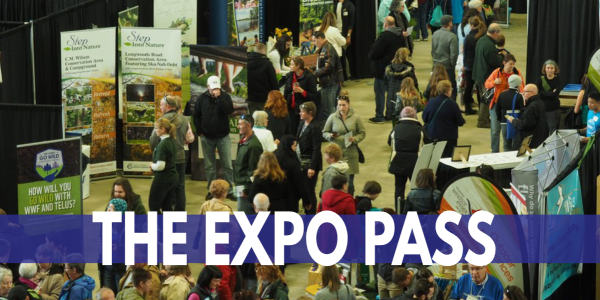 Join the movement!
There's something for the whole family. Include up to 3 kids 12 and under per adult pass
$10 Early-bird Adult
$12 Adult
$5 Youth aged 13-19
Kids 12 and under are FREE!!
Get it all plus more - over $125 in value!
VIP Pass - VIP Includes Expo Pass and Experiential Pass for 1 Adult and 2 Children
+ 2 x Friday Night Kickoff Tickets (bring a guest!) + Go Wild Grow Wild Swag Bag + Carolinian Canada membership
Children's Experiential Passes not included in Youth VIP ticket
$50 Adult
$25 Youth 13-19
Wild Experience - Add-On
Add some ADVENTURE to your Expo experience! Each Experiential Pass includes 1x Wildlife Experience and 1x VR Experience
$15 Adult / Youth - Free with VIP Pass

$5 kids under 12Free with Adult VIP Pass
Wild Green Kick-off - Add-On
Celebrate the launch of the Go Wild Grow Wild Green Expo 2020! Environmental Trivia + Meet and greet exhibitors + local food & beverages
$15 Adult - Free with VIP Pass