Local Innovation to Boost a Green Economy
Deshkan Ziibi Conservation Impact Bond (DZCIB) pilot phase 1 was launched in March 2020 - the first of its kind.
This local 'future-ready' collaboration boosts climate-smart natural capital in the Canada's most complex and fragile ecoregion, the Carolinian Zone, from Toronto to Windsor.
The DZCIB Leadership Team includes Chippewas of the Thames First Nation, VERGE Capital, Thames Talbot Land Trust, Ivey Business School and Carolinian Canada Coalition.
Other leaders joining the cross-sector collaboration include: Oneida Nation of the Thames, 3M, Pollinator Partnership, Lower Thames Valley Conservation Authority, ALUS Middlesex and Camp Kee-Mo-Kee.
DZCIB is a unique in connecting diverse leaders for a green future, conservation finance and the science of healthy landsapes. Phase 1 is the first step towards a pilot goal of improving 600 ha / 1,000 acres to save wildlife, water and our way of life in the face of major challenges.
DZCIB is generating diverse benefits for local communities:
3 First Nations and 20 local stakeholders (community, government, business, landowner, agriculture, horticulture) co-develop a Thames Healthy Landscape Plan. The project is named "Deshkan Ziibi", to honour the Chippewas of the Thames First Nation name for the Thames River. The project area focuses on the traditional territories of the Chippewas of the Thames First Nations.
3 Financial contributors generate healthy landscape outcomes for Species at Risk, pollinators and climate-smart landscapes for Canadians, blending public, private and non-profit interests. 3M steps up as a founding corporate supporter of the program.
1 prototype investor accelerates healthy landscape improvements with up-front capital, allowingecosystem and resilience values to grow along with economic returns. This generates much-needed critical care for 'species on the edge' and mitigates extreme weather impacts to participating farms, businesses and homes - and their neighbours.
45 habitat growers - conservation groups, local business and landowners - generate 60 ha /150 ac of high-quality habitat improvements for agriculture, recreation, tourism, business and Indigenous sectors. Despite a global pandemic, original targets will be met and may be exceeded. The model accelerates healthy landscapes by aligning diverse opportunities and boosting green industry / supply chains from seed to stewardship.
$7M of environmental, economic and cultural co-benefits will be generated for an initial investment of $300,000, according to student research at the Ivey Business School. This preliminary estimate will be refined with an impact measurement framework connecting local targets with international business standards.
Early results from DZCIB shows the CIB model can:
Boost climate-smart natural capital

Attract and align resources for high impact 'dark green' returns

Increase and accelerate healthy landscape improvements

Support green jobs that contribute to 14 UN Sustainable Development Goals

Connect diverse sectors quickly and efficiently across complex landscapes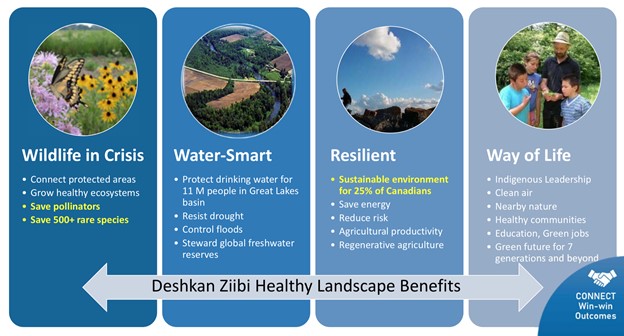 Carolinian Canada and partners are working towards phase 2 and establishing new projects such as Long Point Walsingham Forest in Norfolk County.
Interested in potential benefits for your community or sector?
How does DZCIB fit into the Canadian conservation finance landscape?
Rally Assets: Financing Conservation DZCIB is profiled on page 40.
Explore DZCIB through the stories of its leaders.
Chippewas of the Thames First Nation
Ivey Business School
Carolinian Canada events