Carolinian Canada
This page is provided in its archive form and may not be further updates | Updates and new content are posted to caroliniancanada.ca
Grow Wild! Taking it to the Next Level
Once you have begun to engage your audience and get results, what next? Ideally, social marketing seeks to take the involved public to the next level of participation.  By collecting pledges, you've opened the door to various possibilities regarding follow-up. For example, through surveys, e-mail and even on-on-one discussion, we can discover: 
If, how and when target audience members implement habitat actions
What unforeseen barriers might be preventing pledge-takers from participating
Innovative ways pledge-takers have addressed challenges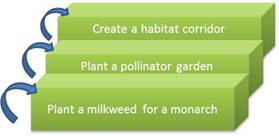 Figure 7: A "Step Up" program encourages individuals to build successively on previous actions.
By gathering pledges from a number of social marketing pilots, we will be able to do some general analysis about audience behaviour at the Grow Wild! umbrella level. We also wish to add value to local pilot programs by sitting down with local partners and identifying what and how "step up" behaviours can be promoted. For example, if a pilot project promotes planting a single pollinator species, perhaps the next step could be encouraging that audience to plant a pollinator-friendly garden (see Figure 7).
From Pilot Projects to Solidified Campaigns
Information-sharing is critical as pilot projects progress. Through forums, webinars and one-on-one meetings, we want to know about successes and lessons learned. Developing great conservation-based social marketing programs will be an iterative process. However, it is this process that will enable us to work together towards building on key messages, educating target audiences and providing them with strategic education about stewardship along the way.
Carolinian Canada is a network of leaders growing healthy landscapes for a green future in the Carolinian Zone in the spirit and practice of reconciliation.
Carolinian Canada will make every effort to provide assistance making materials accessible on request. Contact info@carolinian.org for more information