Sponsors & Partners
Join The Movement
Be part of this unique opportunity to connect with thousands at the largest gathering of the region's citizens, experts, organizations, groups and businesses committed to growing a greener future. Go Wild Grow Wild inspires Ontarians to discover wild places, get outdoors, grow great gardens, and live green in Carolinian Canada, from Toronto to Windsor.
A ground-breaking series of events and digital content for outdoor enthusiasts, adventurers, gardeners & green people
By joining Go Wild Grow Wild, your brand will be seen by thousands of Ontarians who are looking to connect with world-class parks and trails, local gardening supply stores, family vacations, and guided tours.
---
Go Wild Grow Wild has 3 Main Components:
---
Thousands of engaged attendees
100+ exhibitors, speakers, and special features
Growing yearly, drawing bigger names and larger attendance
Online resource and blog full of tips, tricks, and stories
Taking Go Wild Grow Wild messaging beyond the Expo
Keep audiences connected and engaged all year long
In The Zone Garden Workshops and Garden Parties, plant sales, exhibitor meet-ups, and more!
Building momentum leading up to the Expo
Harness the passion of a growing movement
---
How Do We Do This?
---
Go Wild Grow Wild is the connection to your ideal audience of Ontarians who are highly motivated to GO on a wild adventure, GROW wildlife gardens, and GREEN your lifestyle for a green future!
---
We're Kind of a Big Deal
---
When Surveyed...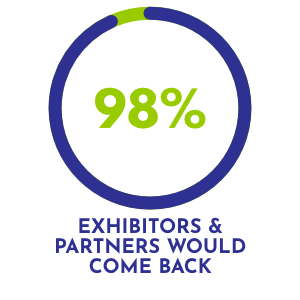 ---
Our Demographic
---
The primary demographic for Go Wild Grow Wild are active green people from all walks of life that include: families, retirees, students, young urban professionals, rural landowners, adventurers, outdoor enthusiasts, nature lovers, gardeners, and green businesses!
We promote an affordable, family-friendly environment, where all ages meet with high energy and are guaranteed to have a good time.
---
Media Coverage
---
Go Wild Grow Wild has been featured/advertised with:
CBC London radio
Corus
Country BX93
AM 980
Bell Media
Rogers TV
CJBK Ask the Experts
CTV community news bulletin
local newspapers
Facebook
Google Ads
Billboards
and more!
---
Why Support Go Wild Grow Wild?
We live in one of the most beautiful, unique, and threatened eco-regions of Canada.
Stretching from Toronto to Windsor, the Carolinian Zone of Canada is home to Canada's hotspot for biodiversity. Our internationally recognized natural spaces are home to the highest concentration of people and threatened species in Canada - and the lowest levels of natural and protected areas.
Need More Convincing?
As the disconnect between humans and nature continues to grow, so does the awareness and action to stop these losses.
Exploration of natural spaces is critical to inspiring action. Research shows, the more time people spend in nature, the more action they will take to preserve it. We have the opportunity to connect thousands of active, passionate green people to save and grow more wildlife habitat.
At Go Wild Grow Wild, we are dedicated to connecting people, wildlife, and community to save this unique and threatened eco-region.
Photo generously donated by Heather Stover
---
---
Past Sponsors
---