EXHIBITOR INFORMATION
The Green Adventure and Garden Expo!
Download the Exhibitor Information Package
With an early spring date, this event showcases the stories, services and products that will inspire outdoor adventurers and butterfly gardens for the coming season!
PLAN(T) YOUR NEXT ADVENTURE HERE!
Over 100 booths, displays, workshops and activities to explore Canada's Deep South. The 2015 event attracted over 1,700 attendees.
JOIN OUR GROWING LIST OF EXHIBITORS!
Outdoor adventure suppliers with the latest gear
Native plant vendors and experts
Science displays and educators
Local eco-adventure tourism destinations
Landscape designers and suppliers
Trail, wildlife, and gardening associations
...and SO much more!
RESULTS FROM 2015 GO WILD GROW WILD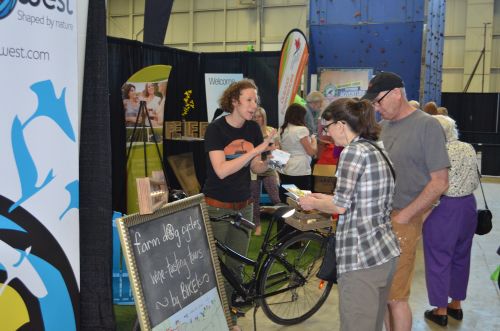 Photos: Owen Williams
"This show is a one-of-a-kind opportunity to engage with a very targeted audience interested in adventure and outdoor tourism"
92% of attendees were inspired to participate in more nature-based recreation
77% of attendees want to get involved in more habitat projects
EXHIBITOR BENEFITS

Generate sales
Introduce new products
Host special exhibits
Participate in workshops
Invitation to our VIP evening event!
Meet other vendors, sponsors, speakers etc.
Your name, booth# in our show guide
Your name profiled on our website and social media
~
Have a question? Interested in discussing an exhibitor opportunity?
~

Photo: Mark Helm